Melbourne Central Catholic Earns 1-0 Win In 3A State Semifinal
It was perhaps the finest overall performance by any two teams playing in the 2013 FHSAA state tournament. Melbourne Central Catholic came up on the winning end of a 1-0 decision over Florida Christian in Monday's Class 3A state semifinal at jetBlue Park in Fort Myers.
The Hustlers (22-5) played true to their name, making numerous highlight-reel plays to constantly rob Florida Christian of hits and momentum. The Hustlers played like a team hungry for the right they have now earned to play in Tuesday's 3A title game against Providence (20-11).
"Those things that happened, wasn't it amazing?" Melbourne Central Catholic Manager Tom Dooley said. "I don't think we've made that many diving plays all year long combined. It just seemed like every ball was just in our grasp and every throw was right there. We talk a lot about 'BLT', which is 'bold, luck and timing'. We had boldness on the mound, we had some luck and we had some timing; that's for sure. Those things really came into play. It can be a game back in February or March, but when it's on the line like this and you see the kids do stuff like that, that's not coaching. We've discussed how mental and emotional baseball is, and when these kids realized it they were not going to be denied."
Florida Christian exhibited just as much passion, making every big play in highlight-reel fashion as well. The Patriots (17-12) are no strangers to the state tournament, having won two titles in the school's history. This group this season had battled adversity at every step and still managed to succeed through it to end a six-year drought of playing on a stage they have reasonable expectations to reach every year.
"They don't give those state championships away so easily," said Dooley. "To win a state championship, you have to go out and absolutely grab it and take it. Even then, the other party is going to have their hands on it too."
Hustlers starter AJ Smith went the distance, throwing 63 of his 79 pitches for strikes while working ahead to nearly every batter and keeping the Patriots' offense at bay.
Florida Christian senior ace Christian Pelaez got the start on the mound, and the left-hander delivered a heart-felt performance in going the distance on 125 pitches. Pelaez was a horse, scattering six hits and walking two while striking out seven in his second complete-game performance of the year.
The Patriots defense wasted no time in backing their ace and showing the Hustlers that they were in it to win it.
John Capra singled up the middle with one out in the top of the first, but was then quickly thrown out trying to steal second base on a perfect throw and tag from San Roman to AJ Puigcerver. Left fielder Chris Gandara followed that up by diving out to rob Nick Capra of a base hit that ended the inning.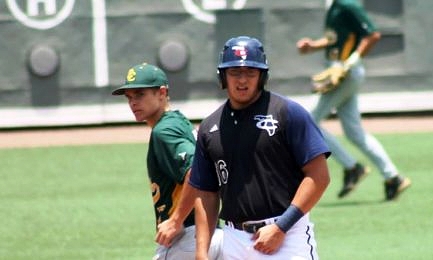 Hustlers center fielder Cam Lierman led off the top of the third inning by blooping a slow roller over the mound, where shortstop Mike Tosar dashed across the field to scoop the ball up and fire it to Jack Diaz in time to record the out.
Melbourne Central Catholic broke through for the only run of the contest in the fourth, as Will Erdman singled home Austin Nickle on a slow roller up the middle to go up 1-0.
Yet again it was Tosar there to make another big play when Lierman drove a shot deep into the left side. Tosar scooped up the ball and did a backwards spin to fire a perfect dart to Diaz for the putout that ended the inning and limited the damage.
For every big play the Patriots made, it seemed as if the Hustlers countered with one of their own.
John Capra had a leaping catch to snare a liner and rob Ruben Somelian of a hit leading off the top of the fourth, and he again came up with a big play in the seventh as he slid across the dirt to snare a shot in time to record the out on a perfect throw to first baseman Nick Capra.
Nick Capra was the unsung hero of the day, where he stretched his small frame as low and long as humanly possible in order to snag several throws on close plays at first.
Had just one of those hits gotten through, Florida Christian may have been able to turn the tables on the end result.
"If somebody had told me we would have to make four diving plays and a pick in the dirt at first in order to win it, I think we might have changed where we thought we would be today," agreed Dooley.