Tampa Ray's Xavier Edwards Offers Free XE9 Baseball Camp
The chance to give back to the baseball community he grew up in means a lot to Xavier Edwards. The Tampa Bay Rays Minor Leaguer has held his XE9 Baseball Camp every year since he was first drafted out of high school at North Broward Prep in Coconut Creek in 2018. The free camp was established to give back to the community and serve minority populations that have not had much access to the great game of baseball.
XE9 takes place every December at North Broward Prep, and this year it will be held on December 28th and 29th from 2:00 PM to 4:00 PM. Participants are encouraged to arrive about an hour early for registration. Players from all the highest levels of the game are on hand to offer instruction and share their love of baseball with the next generation of players.
"It is really humbling to do," Xavier Edwards said. "Guys give back and it is cool to be able to see the young kids. You look back and you remember when you were that little, when I was that age, and it was so much fun playing baseball. It's super exciting and it is definitely humbling just to be able to help. We're not charging anything and there are some prizes also from the instruction. We're just having a good time with the kids and teaching them a thing or two, if that happens."
Young ball players of all sexes and ages are provided with a rare chance to educate and enhance their baseball skills and knowledge. The environment is pressure-free and focused on instruction, education and a fair share of inspiration. Instructors donate their time freely, and they are just as excited to spend time with the children.
"We have a lot of instructors from the Major League and Minor Leagues, and also some Big League guys," Xavier said. "We go through a lot of infield work, also some outfield, catching, hitting and pitching stuff, so we pretty much go throughout the whole field. We hit on all of the baseball aspects throughout the two days, where we go through the basics and some more advanced stuff. It's good for the kids to soak it all in and to be around those kind of professional players."
North Broward Prep has hosted XE9 every year of the camp. The state-of-the-art facility serves as an excellent host for the event, and certainly it is a place that is special to Xavier after he finished up his high school career playing there.
"Those are some of the best years of high school that I spent in my life," Xavier said. "They have beautiful facilities, beautiful campus, the coaching staff was great and they are always open to having us back whenever I am in town. As crazy of a year that it has been, they went back to me and said that they are open to having the camp. Of course, we are going to have temperature checks and we'll have masks on and the whole deal, but it is just great to be able to do it at the place that I graduated and the place that I always look to when I want to work out in the offseason. I like going back down there and seeing what the team is like year-after-year, and it's cool to see that I was once on that field. I literally played in the first game ever on that field, and now I am able to host a camp there for the third year at that field. It is great, especially with all the uncertainty of this year."
This is a year that has not provided as much inspiration as one might hope, as the worldwide pandemic disrupted baseball along with everything else. Just to be able to attend an event such as this is exciting enough, but the young ball players can more easily picture their dreams coming true when they find out that they are playing on the same field that the pro guy hosting the camp once played on.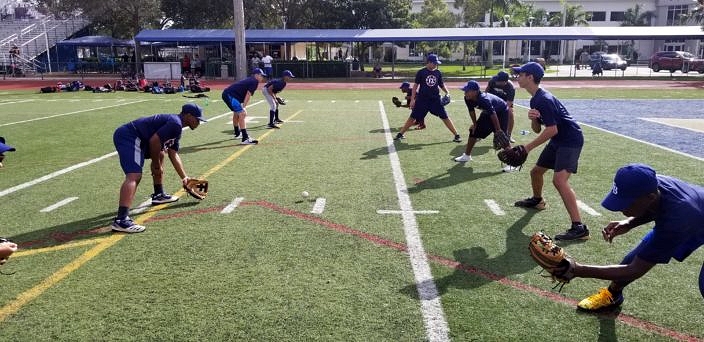 For many of these kids, such a dream seems beyond comprehension. The camp is their first and only chance to take part in something like this, which typically is beyond what their family can afford to pay for. It also provides minorities a chance to be influenced by role models from within their same backgrounds, to remind them that it is possible that someday they may play in the pros too.
"In baseball the numbers for minority players is not very high at all, I don't even think it is above 10% of Major League players are African-American minorities. It is huge just to see all the different faces from all the ages and sizes that are the camp, and it is good for the game of baseball just to motivate kids to play baseball," Xavier said. "I think it is important for kids of color to see that there is another kid who is from their area that is of color who wore the same suit they are wearing. It is something that seems so unobtainable for kids of color in our area, or any area, period. It is just a small step in the right direction, but definitely a necessary step."
Most if not all of these local children know who Xavier is, his local playing days having been not that long ago. But the fact that he plays for the Tampa Bay Rays organization certainly makes the ears perk up a bit more as well these days, after the Rays made a World Series run before falling to the Los Angeles Dodgers in the 2020 World Series.
"They made a real deep run and just fell two games short. So it is definitely something to grow on and a huge year for the organization to build on. We're excited for the future," Xavier said.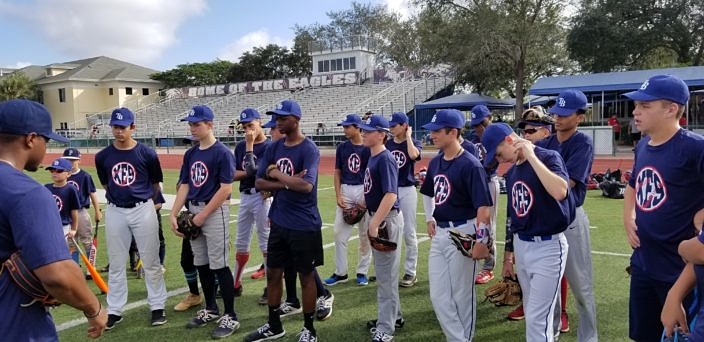 The Rays have also previously served as a sponsor for the XE9 camp.
"In the past we have had the Tampa Rays, Adidas, Palms West Hospital, Gatorade, and Body Armor as event sponsors," said Jovon Edwards, Xavier's father whom also helps with event planning and coordination. "We are very open to adding more sponsors or other organizations that are serving their communities with the same vision we have."
Some of those sponsors return this year, and there are many local players from college up to the Major Leagues serving as instructors.
"Gatorade will be there this year, there will be some food there for the kids to take home, Adidas will be supplying bags, and we'll have some memorabilia from Big Leaguers like Devon Travis, Kevin Kiermaier and Alex Smith, just to name a few guys," Xavier said. "We've got guys from all sides of baseball, from college to the highest level. We'll have a wide-ranging group so they can offer instruction for pretty much any level they want to play at."
Some of the pro guys serving will be the Atlanta Braves' Touki Toussaint, who returns for his second year and who played locally at the former Coral Springs Christian Academy; the Cleveland Indians' Triston McKenzie, who played for Royal Palm Beach, and Devon Travis, who played four Major League seasons for the Toronto Blue Jays after spending his high school days playing at Palm Beach Central.
"Mike Fiers usually makes an appearance each year just to say a few words, and he likes getting around the kids," Xavier added. "So that is four local, Big League guys, and we'll have a lot of Minor League guys along with myself, Mark Vientos, Triston Casas and Justin Connell, and also we've got some college guys."
Despite these trying times, the third annual XE9 Baseball Camp continues on. It is as important as ever that these opportunities are available for children, and it is a tribute to Xavier Edwards and everyone else involved for donating so much for the love of baseball.