Trinity Christian Falls To St. Joseph Academy In 2A-4 Final
Box Score
The St. Joseph Academy Flashes were in the unique position to prepare for the district championship for a long time. Due to the fact that 2A-4 is only a three-team district, the Flashes (14-12) earned the top seed in the district tournament and an opening-round bye that put them directly into the title game. On Thursday afternoon the Flashes took care of business for a resounding 9-1 victory over the Trinity Christian-Deltona Eagles, celebrating the 2A-4 crown on their home field, as the tournament hosts.
Both teams already advanced into the regional playoffs. St. Joseph will host the University Christian Christians (14-7) in a regional quarterfinal on Friday, May 7th at 7:00 PM. The Eagles will travel to take on the St. John's Country Day Spartans (20-6), also on May 7th at 7:00 PM.
Hunter Pankey dazzled on the mound and benefitted from plenty of offense, including three home runs and 12 total hits. Pankey connected for a long ball while going 2-for-4 with a triple and two runs to back his own effort on the mound, and Vic Patel smashed two home runs while going 2-for-2 with four RBI and three runs.
With the ball in his hands, Pankey was just as lethal. The junior right-hander hurled five scoreless innings and piled up 10 strikeouts while scattering four hits. He did not issue any walks.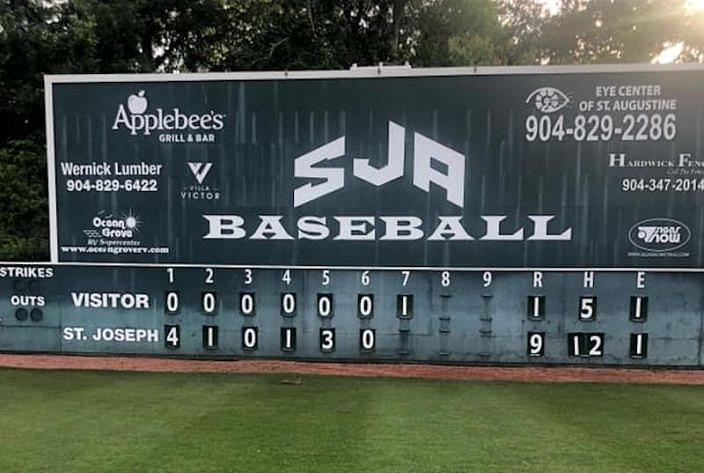 Paul Janeczko and Dave Ko each struck out a pair in an inning of relief for each of them.
The Flashes jumped right out with the lead with four runs in the bottom of the first. Pankey laced a lead-off triple and then crossed the plate with the first run thanks to an RBI single from Aiden Torrez. Jake Marcantonio followed with an RBI double to push across Torrez, and Patel came next with the first of his two long balls – the first one a liner to right field.
St. Joseph kept adding on from there. Pankey's solo shot came the next inning in his second trip to the plate, and Vac Patel added another run an inning late when he was hit by a pitch, advanced into scoring position on a single from Aidan Charletta and scored on a successful RBI squeeze bunt by Fletcher Currie.
A three-run home run by Patel in the sixth inning put things well in hand.
The Eagles (3-15) avoided the shutout with a run in the seventh. Caden McNamara lined a lead-off single to right, advanced on a balk call, and then came around to score following a pair of wild pitches.