Melbourne Falls Late In 6A State Semifinal Against Pace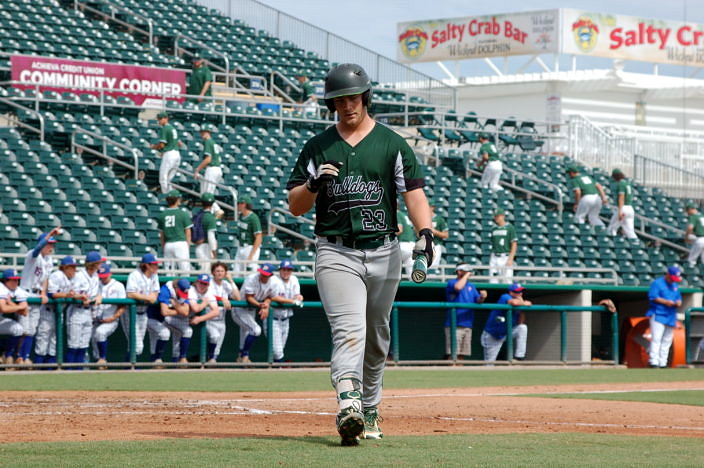 Like a show on Broadway, Friday's Class 6A state semifinal game between the Pace Patriots and Melbourne Bulldogs was split into two acts.
A lightning delay that began at 11:18 a.m. and held until 2:15 p.m. served as the intermission, and both teams restarted what was essentially a three-inning game with the score knotted at 1-1. Whatever nerves Pace had early on were shaken over the break, though, as junior Alex McCranie drove in the go-ahead run in the bottom of the fifth, leading the Patriots to a 2-1 victory.
"I think we were a little nervous for the first few innings, and I think we played that way," Pace manager Jason McBride said. "I think it showed. I felt like after the rain delay, we didn't play that way. It felt like back at home in the three playoff games before. We felt relaxed and just had a different air about us."
While the delay did serve as the turning point for the team, Pace managed to steal some momentum just before time was called. Melbourne's starter, Caleb Miller, surrendered a leadoff double to Broc Parmer in the fourth and moved courtesy runner Palmer Ethridge over to third on a botched pickoff attempt. A wild pitch scored him and erased the precious one-run lead that Melbourne had managed in the third. That ended Miller's night and brought in Tanner Fairbank.
"Only because (Miller)'s never gone past three innings all year," Melbourne manager Pete Donovan said. "He just hasn't. We were happy to get out of dodge with that, and he pitched his heart out."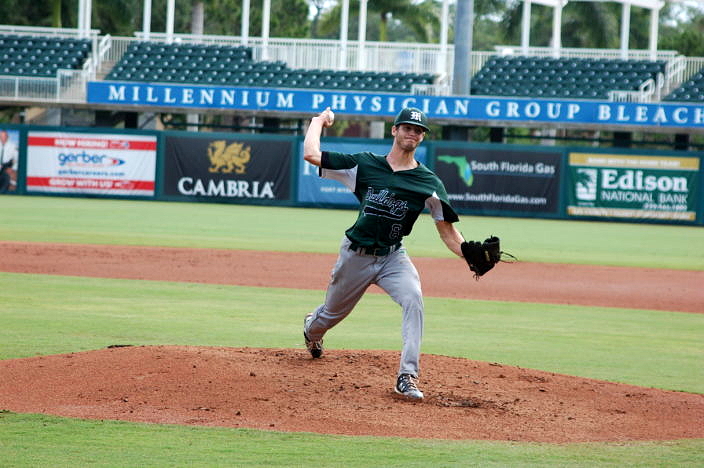 Fairbank needed just seven pitches to get out of the inning with the tie still in place, but the weather put him in limbo. He came back out to start, as did Pace's starter Jackson McKenzie, and lost the duel narrowly. It seemed that Fairbank was just getting warmed back up when the go-ahead run was scored because he settled down in the sixth.
McKenzie was brilliant for the Patriots. It's not often a high school pitcher is trusted to go back out after throwing 50 pitches and sitting for three hours, but that's exactly the kind of guy No. 55 is.
"He's a big game pitcher," Pace manager Jason McBride said. "There's nobody else that can handle a rain delay, a 10 o'clock start, better than him. He always stays in the moment."
It's not the first time McKenzie's faced this kind of adversity either. He dealt with a rain delay earlier in the year against First Coast and pitched lights out for the Patriots, so this was somewhat expected. After taking the lead and pitching six quality innings, he turned the ball over to Tanner Sauls, who has closed out many big games for Pace.
"He's been great all year," McKenzie said. "I know if I get five or six good ones, and we bring him in, the other team doesn't know it but we know it's game over."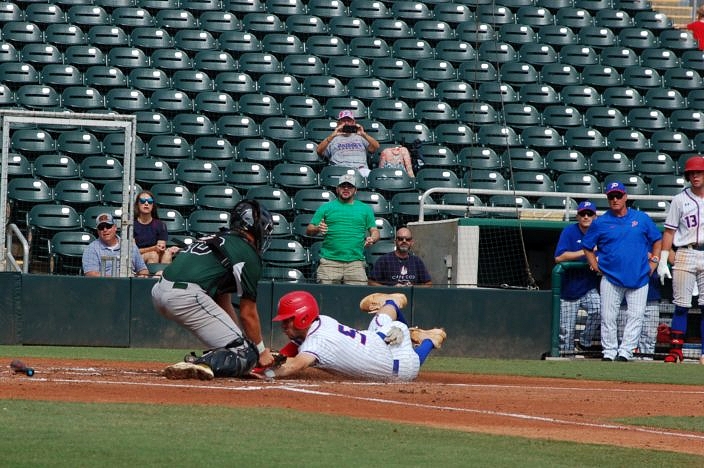 Looking forward, Pace will play either Doral Academy or Sickles High in the 6A state championship on Saturday. McBride and Co. will be in attendance to scout both teams and say they are preparing for both opponents. He's also hoping his team comes out with a bit more urgency after shaking off the nerves.
"We're going to have to throw strikes, play good defense again," he said. "We'll have to get timely hits like today. That was a big two-out hit that McCranie got for us, and that's what it takes to win. You're going to have nerves, you're going to have mistakes, you know. We've got to come out and get settled in quick. Can't wait four innings to get settled."
For Melbourne, they'll look to build on their success with a new head coach. Donovan is calling it a career after 28 years of coaching baseball, but he knows that the team returns a ton of talent on offense and like their chances to return to the final four in the future.