Viera Just One Win Away From First State Title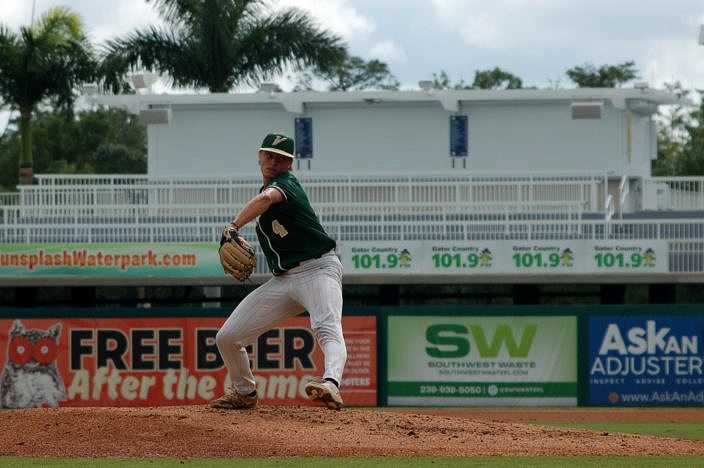 Taking down the reigning state champions is never easy, but the Viera Hawks made it look pretty simple on Tuesday as they blanked the Doral Academy Firebirds, 3-0, in state semifinal action.
Hawks starter Dylan Jordan, a Florida State commit, kept Doral's bats at bay for most of the afternoon, limiting the Firebirds to just four hits through 4 2/3 innings. Opportunities came and went for Doral, but the reigning state champs couldn't seem to recreate the magic of the 2022 states run.
"Offensively, we didn't do anything today," Firebirds manager Ralph Suarez said. "If you told me we were going to give up three runs, I'd tell you we had a really good shot at winning the game. It's just one of those days where we didn't swing the bat very well."
Jordan struck out seven over 4 2/3 innings before turning the ball over to Camden Wicker (Wofford), who closed out the final 2 1/3 frames. Jordan and Wicker gave most of the credit to the Viera coaching staff for devising a plan to take down Doral. The team did "a lot of scouting" leading up to the game and never wavered when it came to sticking to the plan. For Hawks manager Brock Doty, giving the ball to Jordan was a no-brainer.
"Dyl's been our No. 1 all year," Doty said. "He's always been that guy that we go to. He's pitching every big game that we have all year. He continues to grow as a pitcher, finding out how good he can be, and today he had the best performance of the year."
Getting a free run in the first on a bases-loaded and again in the sixth might not be what the Hawks were expecting in the state semifinals, but free runs are never a bad thing for a team looking to pull off an upset.
"You can't get enough runs in the playoffs," he said. "You've got to make sure you can get all you can, and we'll take 'em any way that we'll get them. Would've liked to have had a couple more. We definitely had opportunities to get a couple more, and we didn't get a scratch across the plate."
The one run of the day that wasn't walked in came off the bat of Fano Cruz, who tripled and then scored on a ball thrown into the dugout. Cruz said that he had been aggressive all day and it finally paid off after starting the day 0 for 2 at the plate.
Viera's last trip to the final four came just two years ago, and experience is playing a big factor this time around.
"We wanted to change our approach this time," Doty said. " 2021 we came here and were along for the ride, just excited to be here. This time, we came with a different mindset, and it didn't matter who we were playing. We were going to give it our all."
The Hawks will square off with the Sickles Gryphons on Wednesday at 2:00 p.m. to decide the Class 6A state championship.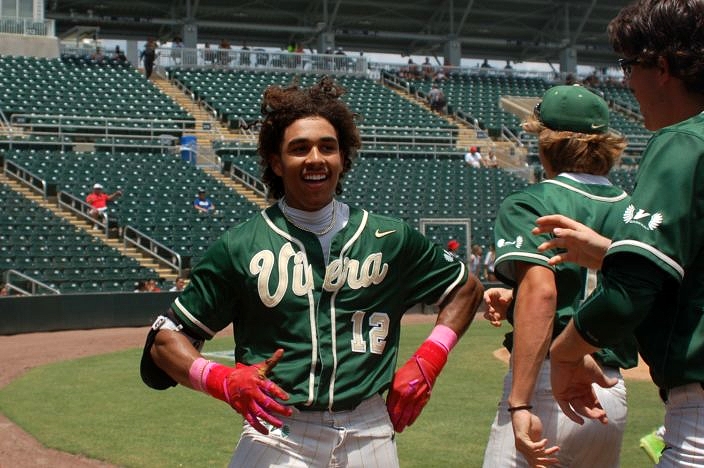 Doral was put in a tough spot on the mound in the first inning after a struggling Luis Rodriguez went down after taking a ball to the calf. He tried pitching on it for a little, but an already shaky start got worse and Pedro Acosta took over for his injured teammate.
"Losing Luis early in the game put a lot of strain on us because we're thin as it is," Suarez said. "He's basically our No. 2, so it put us in a tough situation."
What Suarez hinted at is the absence of ace Frank Menendez, who hasn't pitched for the team throughout the playoffs. One main difference between this Doral team and last year's group is the health of the club. A handful of players missed time this season, including Milano, who was 4 for 4 entering the game over his two games back.
After Acosta came out, Michael Torres and Keyler Gonzalez split the final three innings of the game. Torres was the most effective arm of the day for Doral, striking out four, but he still gave up a run on two hits and two walks. Gonzalez struck out three of the five batters he faced.
Doral is graduating 12 seniors and has to replace the bulk of its starting lineup and rotation. Right fielder Sebastian Berrios, Torres and Milano are all set to return next year, and Doral is always a popular landing spot for those just arriving in the area. Suarez has high hopes that his club will make a third-straight trip to Fort Myers comes May 2024.
"Hopefully, we'll be back here next year again," Suarez said. "Chasing down another state title. We still have good players. I mean, we still have a good corps of young pitchers back."